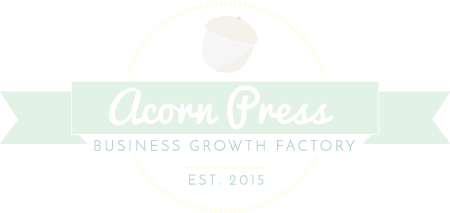 Beautiful. Simple. Yours.
Imagine having a professional and affordable web presence for your business that you can grow forever.
Produce
Web Design & Development
Graphics & Infographics
Branding & Logos
Print & Products
Publish
Web & Blog Content
Social Media Content
Advertising & Email Content
Images & Video
Promote
Social Media Management
SEO & SEM Strategies
Ad Purchasing
Direct Mail & Email
New Business
Have new business and want a simple web presence that can grow as your business grows? Complete our start up questionnaire. We're ready to help
Design Refresh
We specialize in revitalization of websites. Let us take you to the next level, manage the process and give you tools for growth and a fresh new look for your business.
Growing Businesses
Want to grow your influence with your website and be able to expand that site yourself over time, then Acorn Press may be your answer? Let us help you grow your business.
Recent Examples
Have More Questions? We're Here To Help.
We are aiming to bring you the best websites so you can grow your business. Let us know how we can help you. You can also visit our FAQ, which answers a lot of questions for you. Want to talk to a human being?
Call: 205-614-3001